FIREFLYFILMWORKS | Darcy Dennett
Founded by Darcy Dennett, the award-winning Director and Producer of the documentary The Champions, about the pit-bulls rescued from Michael Vick – the New York City based production company FIREFLYFILMWORKS produces documentary, film, reality television, advertising, commercial, and corporate work — bringing a unique perspective to a myriad of subjects. FIREFLYFILMWORKS aim is to work on projects that will help to make the world a better place.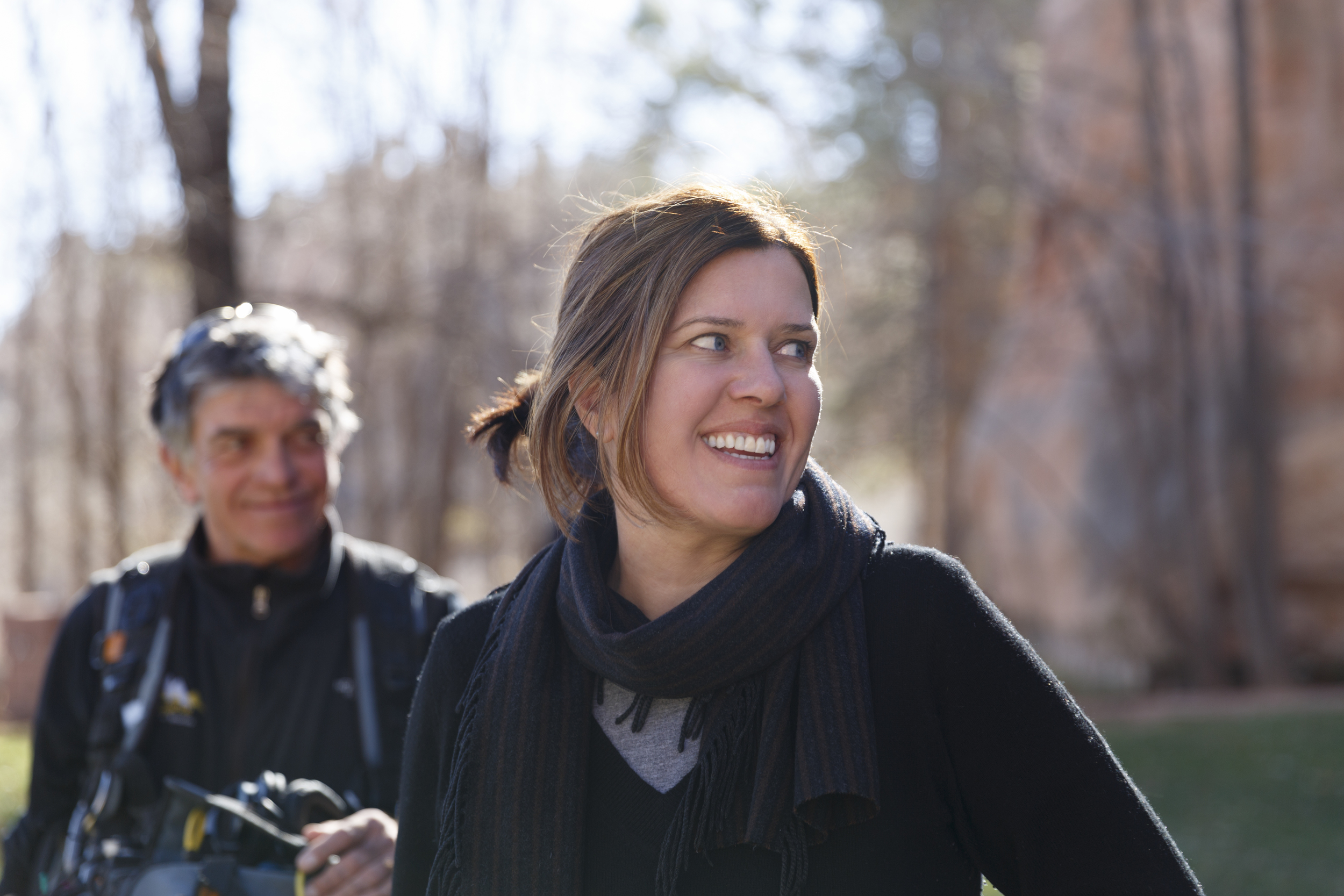 Founder of FIREFLYFILMWORKS, Director/Producer Darcy Dennett majored in film and studied photography at Wesleyan University, has lived and worked in New York City since 1992, and has traveled to over 50 countries.
Her first award-winning documentary feature, The Champions is about the pit-bulls rescued from the notorious dog-fighting ring of NFL's Michael Vick, the Atlanta Falcon's star quarterback—an unexpected and inspirational story of resilience and the significance of the relationship we as humans have with animals.
In 2013 Dennett produced a high-profile segment in Nigeria, one of the most dangerous countries in the world, for Oprah Winfrey's landmark international series Belief [ hotlink to: yet to be created Belief page on DD/FFFW website ] about belief and religion around the world, which aired in 2015.
Darcy has worked in photography, film, and television for nearly twenty years on a wide variety of projects, from commercial and corporate work to documentary and television, for networks including HBO, National Geographic, Discovery, A&E, The Food Network, OWN, and has won numerous awards. She directed, produced and wrote five episodes of the OWN series Our America with Lisa Ling, and produced a multi-million dollar advertising-campaign for HSBC Bank in collaboration with National Geographic that involved travel to over 20 countries and working with some of National Geographic's best photographers. She was the series producer of National Geographic's Dogtown, and directed a two-hour special on the pit bulls rescued from a dog-fighting ring run by the Atlanta Falcons' star quarterback, Michael Vick. It was the highest-rated second-season premiere in network history, with 4.3 million viewers, and was given glowing reviews in both the New York and Los Angeles Times. The series was also nominated for a Genesis Award given by the Humane Society, in recognition of media illuminating animal rights issues.
Resume
(2013-2016) The Champions—Executive Producer/Director/Producer
FIREFLYFILMWORKS
EP, Director & Producer of award-winning feature documentary about the pit bulls rescued from Michael Vick. All odds were stacked against the pit bulls rescued from NFL star quarterback Michael Vick's notorious dogfighting ring. Forced to fight for their lives, they were considered so dangerous both PETA and the Humane Society of the United States wanted them euthanized. But no one could have predicted how the dogs would change the lives of those who risked everything to save them. www.championsdocumentary.com
(2013) Belief— "Imam & Pastor" Segment in Nigeria/Producer
HARPO/PART2PICTURES
High-profile segment in Central Nigeria about Peacemakers Imam Muhammad Ashafa and Pastor James Wuye for Oprah Winfrey's landmark international series about belief and religion around the world. Successfully navigated a myriad of serious safety and production challenges in one of the most dangerous countries in the world.
(2010-2013) Our America with Lisa Ling—Director/Producer/Writer
PART2PICTURES/OWN
Award-winning Journalist Lisa Ling explores various subcultures and social issues in american society in this documentary television series that aired on the Oprah Winfrey Network (OWN) for five seasons.
- Shades of Kink (2013) Director/Producer/Writer
Lisa Ling delves beyond the best-selling novel, "Fifty Shades of Grey," to explore the real world of BDSM, discovering a kinky world far more fascinating than fiction.

- The Lost American Dream (2012) Director/Producer/Writer
The economic crisis affects middle-class Americans across the country, from a family in a wealthy suburb of Chicago, to a long-time paper mill worker, a recent law-school grad, and a pair of retirees.
- 3AM Girls (2011) Director/Producer/Writer
Investigates shadowy underworld of sex trafficking of underage girls in America. Challenging episode involved hidden cameras, nearly impossible access issues, long hours, and lots of blood, sweat and tears. Network comment: "deeply compelling."
- A Closer Look (2011) Producer/Writer/Segment Director
Supervised & collaborated with team of talented & dedicated folks to pull off incredibly challenging and nearly impossible four-week turnaround of shoot and post-production of an episode that followed up in a "where are they now" style, on five stories from the first season of the series. Piece written up in the New York Times.
- Online Brides (2010) Co-director/Producer/Writer/Second Camera
Ten American men head to Colombia to participate in a one-week marriage tour. Will they find love, if that's what they are really looking for?
 
(2009-2010) International Ad Campaign for HSBC—Producer
JWT/NATIONAL GEOGRAPHIC
Split responsibility for all aspects of production of global advertising shoot for international bank HSBC, working with renowned National Geographic Photographers Randy Olson, Jodi Cobb, Mike Yamashita, and 3 National Geographic Videographers. Project involved travel to over 20 different countries. Hired by J Walter Thompson, Adweek's global agency of the year in 2009, and the largest agency in the U.S.
(2007-2009) Dogtown— Series Producer
NGT/NATIONAL GEOGRAPHIC
4 seasons, (28) hour-long episodes of highly successful series following trainers, vets, and caregivers at a Utah animal sanctuary as they attempt to rescue and rehabilitate dogs who would otherwise be euthanized for serious medical or behavioral problems.
Director and co-creator of pilot episodes responsible for shaping series. Involved of all aspects of production from creative to managerial, including supervising the field, producing and writing, to overall shaping of series. Managed relationships with talent, locations, crews, and post staff.
Director and Series Producer of two-hour special season premiere "DOGTOWN: Saving the Michael Vick Dogs." Highest rated second season premiere in network history. NGC's top Friday night premiere ever, reaching 4.3 million viewers. Nominated for a GENESIS AWARD in March 2009, a Humane Society Award recognizing media for illuminating animal rights issues.
Contributor to "Dogtown: tales of Rescue, Rehabilitation, and Redemption," a National Geographic Society Book, appearing in bookstores October 2009.
Select Credits
(2013) US Postal Service—Executive Producer/Director
FIREFLYFILMWORKS
Oversaw all aspects of production for three videos at the National Postal Forum, in conjunction with Maga Design in Washington D.C.
(2011) Brain Games—Supervising Producer
NGT/NATIONAL GEOGRAPHIC
Supervised production of (3) 1-hour National Geographic specials on how the brain works and tricks of perception.
(2006) Sensing Murder— Director/Producer
GRANADA/DISCOVERY
(2) hour-long episodes as psychics help detectives solve cold cases, blending documentary with reenactments.
(2006) Mario, FULL BOIL—Director/Producer/DP
DAN COHEN & SONS/ FOOD NETWORK
Followed Mario Batali during his ambitious attempt to open the first Italian four-star restaurant in NYC.
(2005) Boy Meets Grill—Director/Series Co-Producer
DAN COHEN & SONS/FOOD NETWORK
Directed/Produced two seasons of celebrity chef Bobby Flay, eating, shopping and rooftop-grilling, NYC-style. Researched & scouted locations around NYC. "Directed" Bobby Flay. Oversaw production and posting of series.
(2004) The Knot: Real Weddings—Director/Producer, Director of Photography
OXYGEN
(5) 1/2 hour episodes of #1 Series on Oxygen, following couples on the roller-coaster ride to their big day.
(2003/4) Family Plots—Producer, Field Producer/DP
HYBRID FILMS/A&E
(2) seasons, and 42 episodes of multi-character docu-soap following family-run mortuary in San Diego, CA.
(2003) World's Apart—Field Producer/DP
TRUE ENTERTAINMENT/NATIONAL GEOGRAPHIC
American families transplanted into life with extreme cultures. Series pilot: Kenya/Rendille warrior tribe. Borneo/Iban Headhunters, Morocco/Berbers. Ghana/Northern Tribes.
(2003) It's a Living —Field Producer/DP
HYBRID FILMS/A&E
(2) hours of 13-part series following highly unusual careers, including a professional dog-handler, and two organdonor coordinators save six lives after the tragic death a 15-yr old rodeo-champion in Oklahoma city.
(2002) Doctors Without Borders—Field Producer/DP
TRUE ENTERTAINMENT/NGC
Dr. Ed Chai and Nurse Kate Turner try against all odds to implement basic health care for the Miao and Dong minority groups in remote, breathtaking Southern China.
(2001 & 2002) World Birthday—Field Producer/DP
GRANADA DISCOVERY
Children born into different cultures around the globe one day in San Francisco& Hiroshima, Japan.
(2002) Navair—Director/Director of Photography/Editor
19NINETEEN
Traveled to various high-security bases and headquarters around the US creating comprehensive branding piece for the Department of Defense division that develops, tests & maintains missiles and jets for the Navy & Air Force.
(2002) Lilly Pulitzer Fashion Promo—Director/Director of Photography/Editor
19NINETEEN
2 minute fashion piece for the classic clothing designer, famous for making bright, boldly-patterned clothes.
(2001) Morning: September 11th—Executive Producer/Director/DP
HBO
Shot, produced, & directed a short, documenting the shock of New Yorkers watching in disbelief from across the bay included by HBO as part of a compilation entitled, "Visions from Ground Zero."
(2001) Code Blue—Series Co-Producer
NYT TELEVISION/TLC DISCOVERY
13 hours following surgeons in Savannah, Georgia. Oversaw multiple complex story-lines.
(2000) Trauma, Life in the ER— Field Producer/DP
NYT TELEVISION/TLC DISCOVERY
(2000) Women Doctors (PILOT EPISODE)—Field Producer/DP
TRUE ENTERTAINMENT/ LIFETIME
(2000) Coast Guard Barque EAGLE/OPSAIL 2000—Field Producer/DP
PBS/WNET 13
Ten days at sea aboard America's sailing ship EAGLE.